Welcome to originalkettlekorn.com – the Original Kettle Korn.  Yes, this is the original John & Barb's Original Kettle Korn.
After over 15 years of popping it up all across Wisconsin and in the South, John and Barb handed off the tradition to Tom & Kathy.
Tom and Kathy have been carrying on the John and Barb tradition for over 12 years.
The year 2020 was a difficult year for most of us.  The panic of the C-virus had canceled most events and left many people wishing they could attend their favorite events again.
We look forward to 2021 with renewed hope this Country returns to normal and the events we all love will return.  Our first event of the year, in Stevens Point, WI,  was canceled for a second straight year.  Our next two WI events have sent us contracts, so we are planning to attend upcoming events in Neenah and Eau Claire this summer.  Our fall schedule is not completely set, but events in Tennessee and North Georgia are charging full steam ahead.  Our last event of the year, in Dothan Alabama is also still making plans to hold their event.  We hope to see our regular customers this year!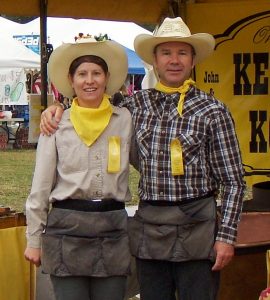 We are proud to produce our "Original Kettle Korn" at many events in the old-fashioned traditional way. We are based out of Wisconsin and most of our events are in our home State. We do venture to the beautiful South for a fall season of wonderful events each year.
We take an enormous pride in making sure our Kettle Korn is of the highest quality and always fresh! We don't bag ahead like many others.