Welcome to originalkettlekorn.com – the Original Kettle Korn.  Yes, this is the original John & Barb's Original Kettle Korn.
After over 15 years of popping it up all across Wisconsin and in the South, John and Barb handed off the tradition to Tom & Kathy.
Tom and Kathy have been carrying on the John and Barb tradition for the last 11 years.
The year 2020 has been a difficult year for most of us.  The panic of the C-virus has canceled most events and left many people wishing they could attend their favorite events again.
We aligned ourselves to pop for worthy causes at two of our favorite places.
Sunday, October 18th, we did a fundraiser for the Chiaha Harvest Fair folks who would normally hold their event in Rome, GA.   Folks lined up or drove up and with the help of the Chiaha crew, we had a very successful fundraiser.  The local community was very generous, many people who came out gave more in donations.
Sunday through Tuesday, November 1st – 3rd, we were in Dothan, AL teaming up with the Dothan Alabama area veteran's organizations to put on a 3-day fundraiser.  The local DAV (Disabled American Veterans) chapter has a peanut booth at Cowboys Honky Tonk on south 231, normally, they are open Wednesday through Sunday with proceeds from their booth helping Wiregrass veterans in need.  The DAV opened their booth alongside ours all 3 days and we had a wildly successful fundraiser with many locals being very generous with their donations.
These worthwhile fundraisers had 2 goals in mind.  1) to raise much-needed funds for worthy causes, and 2) to put a smile back on the faces of some of you who will miss a couple of our favorite events;  the Chiaha Harvest Fair and the National Peanut Festival this year.
We were excited to "come home" to Rome and Dothan for these fundraisers to see many of our regular customers and friends.  Our regular crew of gals helped us "pop, pop, pop it up – pop that kettle korn right up!"  Both events gave us all a sense of normalcy in these crazy times.  A HUGE thank you to all who came out to support great causes!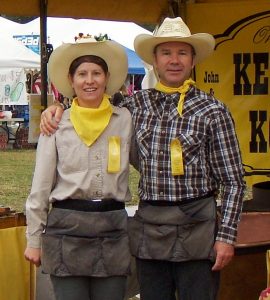 We are proud to produce our "Original Kettle Korn" at many events in the old-fashioned traditional way. We are based out of Wisconsin and most of our events are in our home State. We do venture to the beautiful South for a fall season of wonderful events each year.
We take an enormous pride in making sure our Kettle Korn is of the highest quality and always fresh! We don't bag ahead like many others.